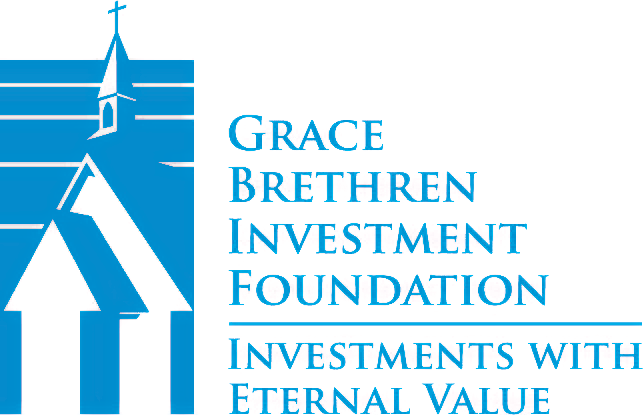 Grace Brethren Investment Foundation rebrands as Grace Financial
Since 1955 the Grace Brethren Investment Foundation has served the Charis Fellowship by providing affordable ministry financing. That legacy endures today as we continue to strengthen our relationships with churches, ministries and investors under the new name Grace Financial.
We want our brand to reflect our deep commitment to the Charis Fellowship and encourage affinity with the movement and ministries we serve. This rebrand allows us to clarify and better communicate who we are, the tribe we belong to, and most importantly, our passion and goals for supporting kingdom growth. As the mission field evolves, so do we. This change positions our organization to serve the needs of ministries and investors well into the future.
We have a new name that is simple, clear and aligned to our Fellowship and its churches. It honors our history while looking forward to our future. We have a fresh expression of our brand that includes a new logo and new colors. We have refined our language and communication to guide our team and connect with the organizations and investors we serve. We believe the changes you see better represent who we have always been and propel us forward towards what we believe God wants us to achieve.
Our core values, mission and vision have not changed; they have only become better articulated. You still have access to the same dedicated staff and dependable financial services. We continue to serve the Charis Fellowship, and the growth of its churches and ministries is still our main priority. We remain focused on providing stable investments to individuals and organizations that in turn contribute to affordable financing for churches and ministries.
Grace is, of course, central to the gospel. The concept, and word, has been foundational throughout the history of our Fellowship and its churches. In 2013, the Fellowship of Grace Brethren Churches rebranded as Charis Fellowship, deriving its new name from the Greek word for 'grace.' In our own rebranding, we have preserved the word 'grace' in honor of our history and commitment to the Fellowship. We also strive to excel in the grace of giving (2 Cor. 8:7) by making contributions back into the Charis Fellowship to further church planting and leadership development efforts.
Financial services are at the core of what we do – and they are what we do best. We recognize our distinct role in using our financial expertise to assist churches and ministries of our Fellowship. While we remain focused on ministry loans and demand investments as our primary offering, we also serve as a resource for financial stewardship. Grace Financial offers educational resources and helps to develop financial literacy. We are always working to expand our portfolio of services that help others plan for their futures and make meaningful contributions to the ministries of our Fellowship.
The story behind our new logo
With the redesign of our logo, it was important to us that our brand remain true to who we are and where we've been while also looking ahead to tomorrow. Our new logo is both contemporary and traditional. It achieves a balance between professionalism and approachability, simplicity and sophistication. Its three synchronous curves represent the positive growth and momentum achieved through collaboration between ministries, individual investors and Grace Financial.
Frequently Asked Questions
How will the name change affect employees?
There are no plans for changes in the Grace Financial staff. The same familiar employees will be serving our investors, churches, and ministry organizations.
How will the change affect my accounts?
The name change to Grace Financial will not affect your current investments, loan agreements, year-end tax reporting, or online services access.
Other than the name, will there be other changes made to the organization?
A new logo and website will be unveiled with the name change. These elements will support and enhance the look, feel and messaging so that we become easily recognizable to our investors, church partners, and Charis Fellowship organizations.
Will the name change have any impact on how Grace Financial is managed?
The change to Grace Financial will not change the direction of the organization. The products and services offered will continue to help Charis Fellowship churches and church attenders. The new name will provide a solid foundation for the continued success of the organization and the ability to support investors with innovative solutions for investments and church financing.
What will happen to my automatic payments and account transfers?
All existing preauthorized automatic payments and account transfers will continue to be processed from your accounts. If you have a special transaction request or would like assistance changing a recurring transaction, please contact any of our customer service experts.
Are you ready to start working with our team on a potential project or loan? Simply click the button below to contact us, and we would be happy to help in any way we can!